Regular price
$33.00 USD
Sale price
$29.99 USD
Unit price
per
Sale
Sold out
Unleash Your Cat's Inner Chucky with a Custom Pet Portrait
Product Description
Discover a unique way to showcase your cat's personality with our custom Chucky pet portrait. Our talented artists specialize in creating custom pet portraits that capture your beloved feline's distinct features and character. With various customization options, you can create a portrait that perfectly matches your cat's style and individuality.
Our custom pet portraits are printed on high-quality artist stock and stretched around wood fiberboard for a professional and authentic look. Our long-lasting inks ensure that your portrait remains vibrant and true to life for years to come. Whether you're a fan of horror movies or want to add an edgy touch to your home decor, our Chuckiypet portrait is the perfect choice. Order yours today and let your cat channel its inner Chucky.
We offer three different portrait dimensions: 8" x 10", 12" x 16", and 18" x 24", allowing you to choose the size that best suits your space and preference. Our skilled artists will bring your vision to life, creating a unique masterpiece that celebrates your pet's unique charm.
How it works
Select the Chucky costume, upload a photo of your cat (or any other pet), and place your order.
Our world-class artists will transform your photo into custom artwork, capturing the essence of your pet's personality.
Enjoy unlimited revisions to ensure your custom canvas portrait is perfect.
Once approved, we'll produce and ship your personalized piece of art, carefully packaged to ensure its safe arrival.
Choosing the Perfect Photo of Your Cat
When submitting a photo of your cat, choose an image that showcases your pet sitting upright or standing. Provide a close-up, high-quality photo that captures their unique features for the best results. Unsure if your photo is suitable? Feel free to contact us with the picture; we'll gladly assist you.
When Will I Receive My Order?
After approving your artwork, fulfillment typically takes between 2 to 6 days. You'll receive a tracking number once your order is fulfilled. Delivery within the United States usually takes 3 to 7 days, while international delivery may range from 5 to 25 days. Don't miss out on the opportunity to adorn your walls with a personalized canvas print of your cat as Chucky. Place your order today, and let the transformation begin!
Share
View full details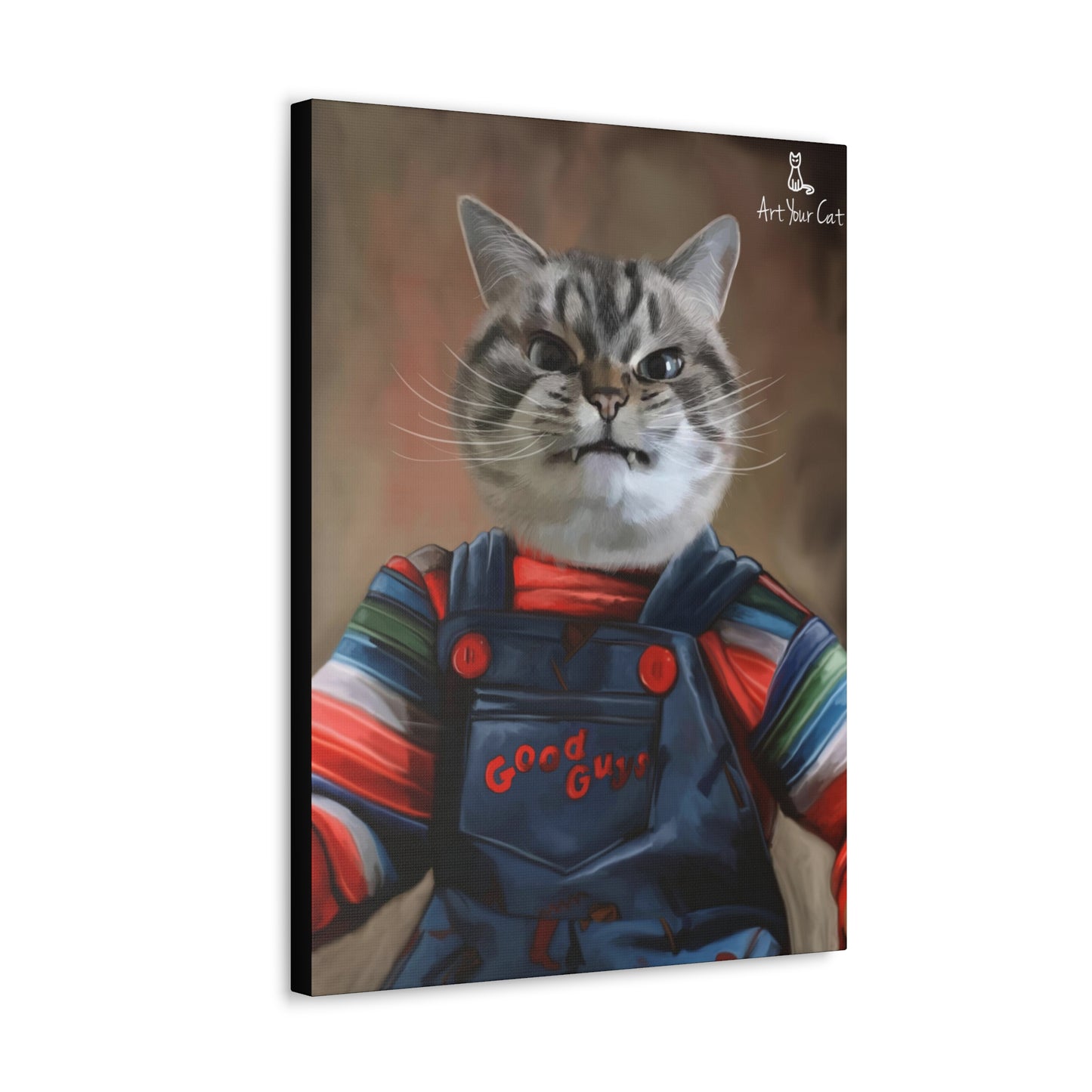 Detailed piece
Simple yet scary and detailed piece of my beautiful Flower.
Thanks!!!
You guys really added the fangs!!!Thanks again for doing a follow up call with me when I didn't respond to your emails :))
Good Value
Last Halloween was a blast and my guests super loved Art Your Cat's portrait! Of course my adorable chuckie kittie in our living room. It's because she is our precious baby in the house.
Looks great!
I love my cute scary kitty! I can't dress her up this Halloween so I think this will look great for our party ;)