Regular price
$44.00 USD
Sale price
$39.99 USD
Unit price
per
Sale
Sold out
Display Your Love for Your Furry Friend with a Custom Royal Cat Portrait on Canvas
Product Description
Every person who sees this royal cat portrait on canvas, wherever you display it, will know how much you cherish and love your cat. The perfect canvas print that showcases your cat's regal presence in your home and demands respect!
Canvas prints of royal cat portraits are crafted on high-quality artist stock, then expertly stretched and wrapped around wood fiberboard. These canvas frames boast a thickness of 1.25" and come equipped with hooks for effortless hanging. The inks used are specially designed to resist fading over time, ensuring that each royal cat painting remains artist-grade and OBA-free.
Portrait Dimensions:
8" x 10"
12" x 16"
18" x 24"
How to Order Your Custom Royal Cat Portrait
Upload a picture of your cat (or any other pet).
One of our team of world-class artists will promptly reach out to you and transform your photo into a custom royal cat painting.
You'll have the opportunity for unlimited revisions if necessary.
Once approved, we'll produce and ship your bespoke royal cat portrait.
Selecting the Perfect Photo for Your Cat Royalty Painting
Our skilled artists will craft a custom masterpiece based on the photo you submit with your order.
The ideal photo should capture your pet sitting upright or standing majestically.
Ensure that the photo you provide is a high-quality close-up of your pet.
Not certain if your photo meets our standards? Simply contact us with the photo, and we will assess it for you.
When Can You Expect Your Custom Royal Cat Portrait?
Upon approving your artwork:
Fulfillment typically takes approximately 2-6 days.
Once fulfilled, you will receive a tracking number for your order.

For US deliveries, please allow 3-7 days.
International deliveries may take between 5-25 days.
Share
View full details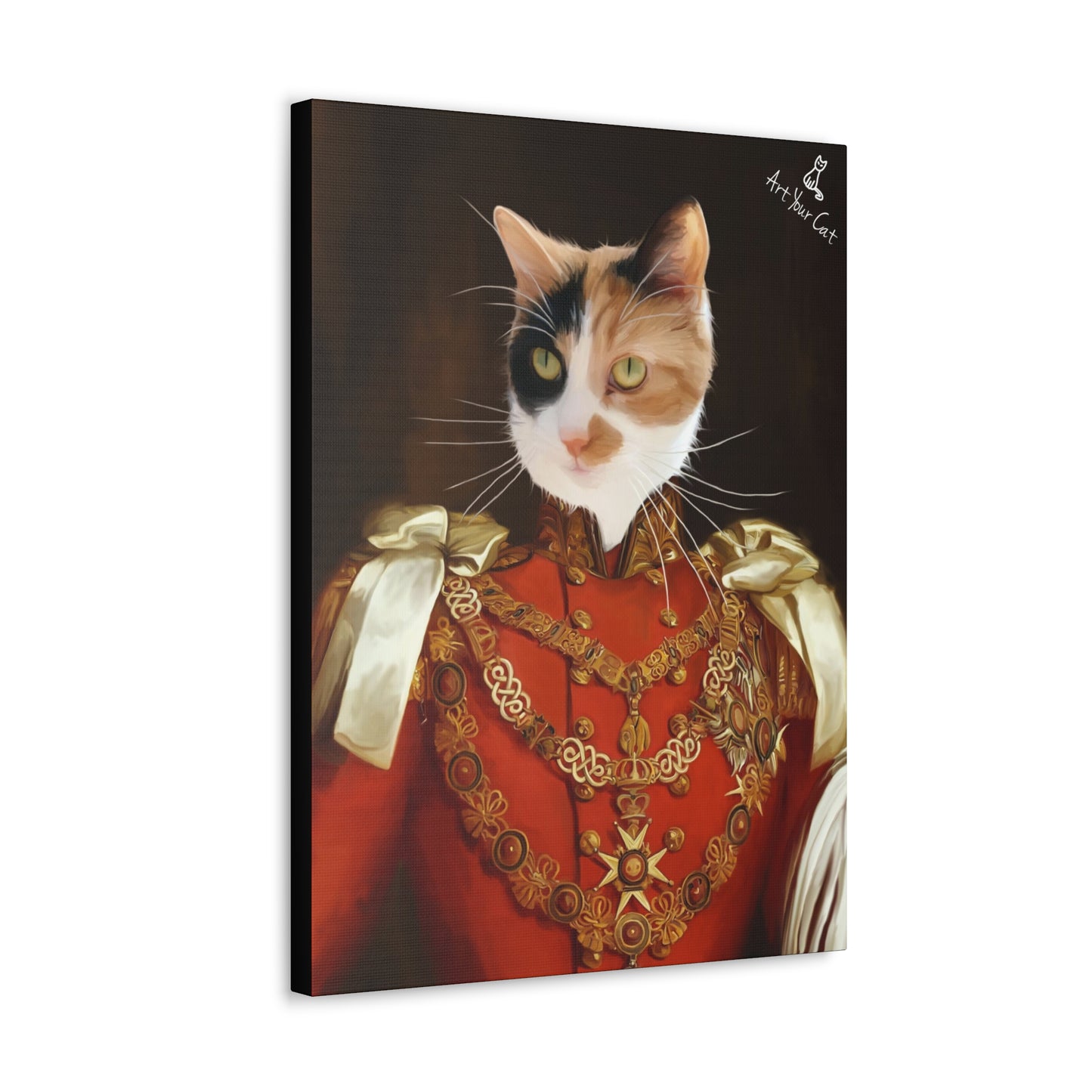 Amazing & adorable
We absolutely love this print of our handsome boy! Planning to order one for each kitty soon!
Masterful
The art was gorgeous and made my cat look more royal. Siomai, my cat, is awesome I would definitely get another. I think the medium size picture is perfect.
Count Ivan
ArtYourCat created a magnificent portrait of my Russian Blue that I adore! It proudly hangs in my hallway along with the family portraits. Superb job!
Pure perfection
What can I say. We love this. Love love love love! The artist managed to capture Felix's face PERFECTLY! I spent a lot of time to find the perfect picture of Felix which would reflect his personality. And Well just look at the final result, it is more than perfect! I had to print it here in Finland in order to get bigger one. This is 70*50cm and I managed to find these awesome frames from flea market. The digital photo, printing and frames cost 85€ altogether. The best 85€ I have ever spent! Ever!
Service was fast and super nice❤️